Attorney Profile
---
A graduate of the University of Massachusetts and Western New England University School of Law, Martha Day has been practicing law in Rhode Island since 1985.     Upon passing the bar examination she joined a local law firm, Kenyon & Aukerman, as an associate.  Later, she became a partner in the firm as well as a partner in South County Real Estate Title Insurance Company and Priority Title Company.  While at Kenyon & Aukerman, most of Martha's practice was devoted to real estate conveyancing from developing contracts to conducting closings.  She also had extensive experience in condominium development, estate planning and probate administration.  As the managing partner she was responsible for office administration.   After twenty years of practice, and thousands of closings, Martha moved in 2005 to open a solo practice at 71 Main Street in Wakefield. 
Martha is aided in her practice by three assistants with almost sixty years of law office experience.  Pam, Carol and Andrea work closely with Martha to assist and satisfy hundreds of buyers and sellers of real estate every year.
Martha continues to focus her practice on real estate transfers.  She is an approved attorney for The Washington Trust Company as well as numerous other lenders.  She has integrated ALTA (American Land Title Association) Best Practices into the firm's routines, so that she is compliant with the CFPB (Consumer Financial Protection Bureau) requirements for real estate closing companies. She is a member of the Rhode Island Bar Association Title Standards Committee, and the American Land Title Association.   To stay current in a field of law that has seen rapid changes since 2008, Martha takes numerous continuing education seminars and webinars.   
Martha's love of the land and her community extends beyond her practice. She is the president of the South Kingstown Land Trust, where she has served on the Board since 2012.  She has been a member of the GFWC Women's Club of South County for more than twenty years and served multiple years as its treasurer and as co-chairwoman of the club's major fundraiser, the annual Book and Author Luncheon.  She is a member of the Narrow River Preservation Association, the Southern Rhode Island Chamber of Commerce, and the Washington County Bar Association.  She serves on the professional advisory board to South County Hospital.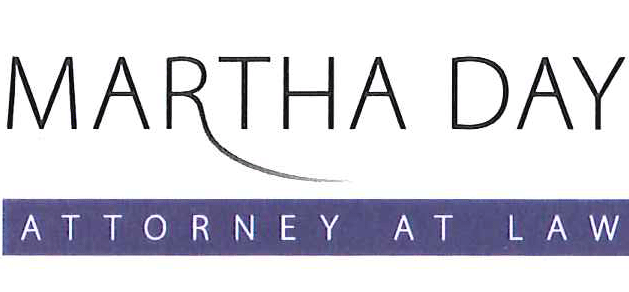 Martha Day, Attorney at Law
phone:401-783-6655
fax: 401-783-5355
71 Main Street, Wakefield, RI 02879
---